Known for warm weather, wine tours and refreshing dips in the lake, the Okanagan Valley offers the quintessential summer vacation experience. For those lucky enough to call it home, Kelowna boasts an average of 304 days of sunshine a year. To make the most out of this temperate climate, tailored home features can bring elements of Okanagan vacations into everyday living.
And what better way to enjoy the Okanagan summer than from the comfort of your own home! Homeowners can extend their summer through purposeful landscaping, patio designs, privacy screens and curated outdoor spaces. Whether you're looking for resort-like experiences or family fun in the sun, here are our top 5 home features for Okanagan summers.
1. Patios & Decks – Extending your living space outdoors
Purposeful outdoor spaces can help you make the most of your home in all seasons. Patios and decks can be covered to extend their use into the cooler months, while retractable screens and shades can be used to add cover only when it's needed. For spaces that get direct sun, custom shading can be the difference between enjoying your Okanagan afternoons and having to hide indoors.
Solar panels are another option for managing outdoor heat. Solar panels convert energy from the sun into electrical energy, which can be used to cool your home and help offset your electricity costs. By absorbing thermal energy, solar panels help to keep surrounding areas cool. Outdoor ceiling fans and misters can also help to beat the afternoon heat by circulating and cooling the surrounding air.
Outdoor living spaces are growing in popularity for cooking, dining, and entertaining outdoors. Instead of simple barbecues, many outdoor cooking areas are being equipped with full kitchen setups. Wood-fired pizza ovens, outdoor bars and fridges, and luxury cooking ranges are taking meal prep outdoors. For after dinner, fire pits and tailored entertainment areas can become a family gathering place on cooler Okanagan evenings.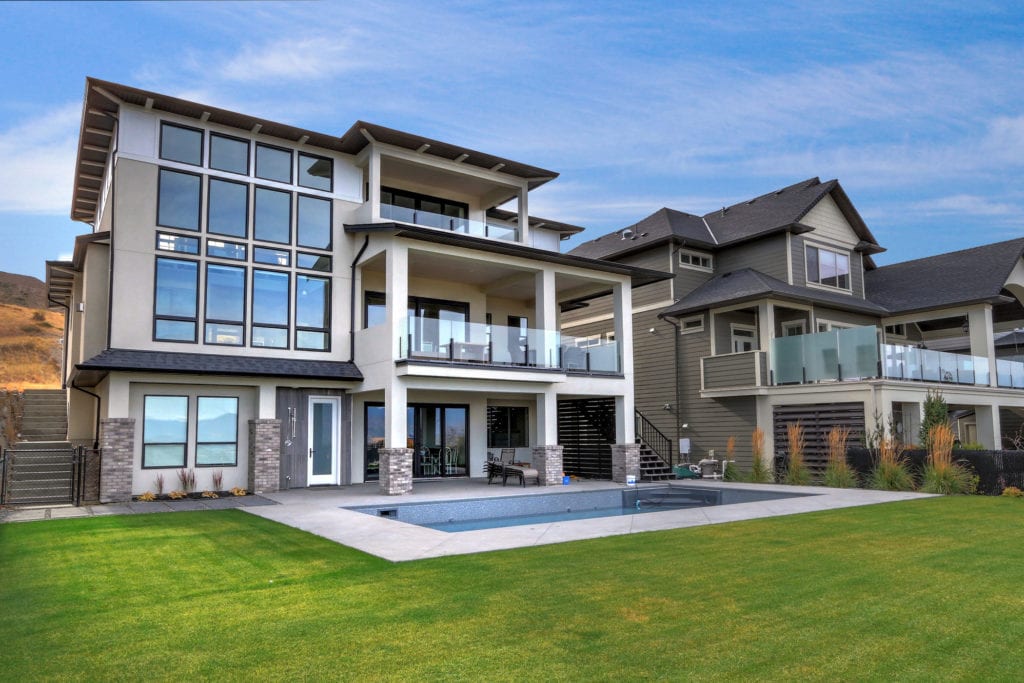 2. Pools – Bring the resort to your backyard
If staycations are the new vacations, then what's a vacation without a pool! When you dream of a nice resort, are you soaking up the sun and relaxing by the water? If yes, why not incorporate a poolside retreat into your own backyard.
Pool hydronic solar panels can help offset heating costs, while built-in heaters can help to keep temperatures consistent. Pool covers can also aid in temperature control, while helping to keep the water clear and clean. Add in synthetic lawn and zeroscaping options, and your yard and pool maintenance can be a breeze.
With a variety of in-ground and above ground pools available, turning your home into your favourite Okanagan resort may be easier than you think. Enjoy an infinity pool overlooking the lake, a lap pool to keep you fit or an in-ground pool for family fun.
3. The View – Enjoy every sunset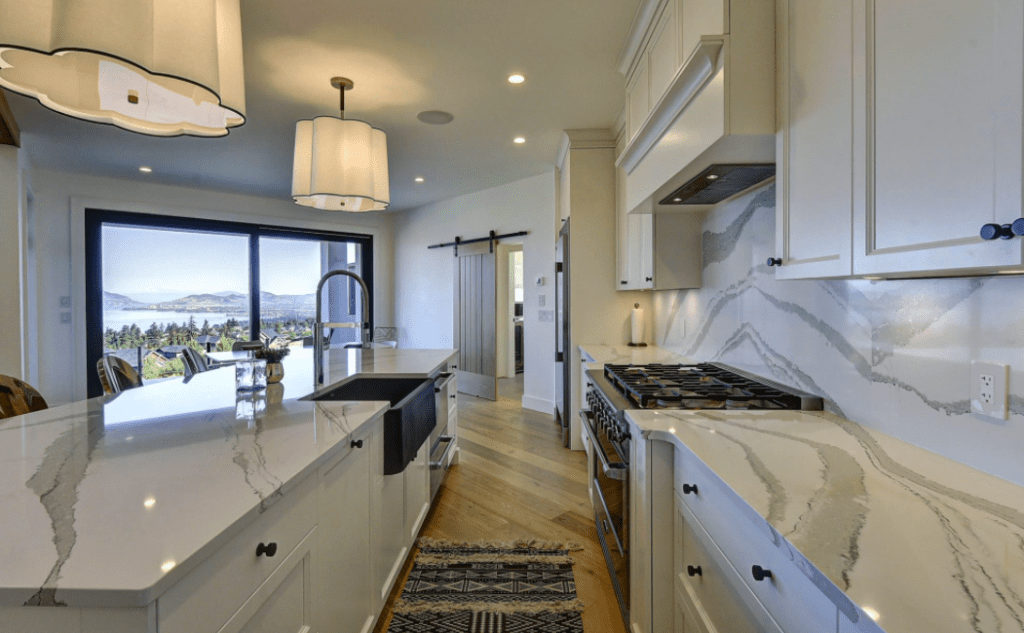 When building a luxury home in the Okanagan, finding a good view isn't difficult. If you haven't witnessed an Okanagan sunset or sunrise over the lake, we highly recommend it. They could easily be among the top reasons to live in Kelowna.
At Stark homes, every house we build is unique. We work with professional architects to create a purposeful home design that best captures your unique property features. We take into consideration the terrain, lighting, and view potentials, and ensure that your view is always front and centre.
4. Air Conditioning – Comfort, always
Summers in the Okanagan Valley are known to be scorching hot. One of the great advantages of building a custom home is that there are a host of features that can be installed to beat the heat. Modern HVAC systems can make cooling your home more efficient and eco-friendly, often replacing traditional forced-air systems in new homes.
Forced air systems work by pushing refrigerant-cooled air into a home through ducts and vents, while modern systems take a different approach. Popular options include:
No one likes to be uncomfortable in their own home, so HVAC systems in Kelowna are a must. Intuitive wireless systems can be used to remotely control your home temperature. A complete home kit can also power and control all aspects of your home. You can control your blinds, adjust your thermostat, turn on and off lights, and adjust ambient music inside and out. This can all be done from a simple remote. For added luxury, a smart home can take automation a step farther, syncing your home to your daily routines for the utmost comfort.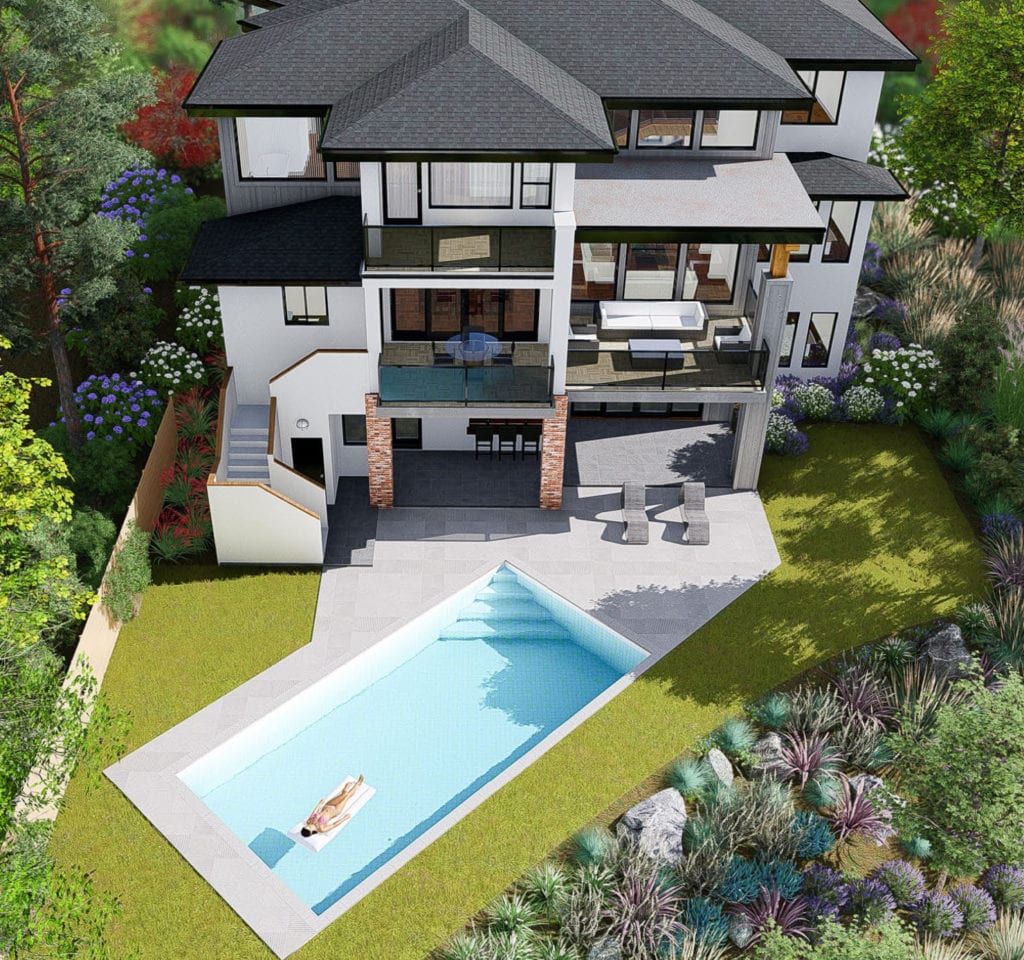 5. Privacy – The final touches
To get the most out of your backyard, think of the outdoors as an extension of your interior design. From a covered patio with comfortable outdoor furniture, to beautiful artwork and lighting that adds to the ambience. Family gatherings and hosted parties can be taken outdoors, with all the comforts of being inside.
Privacy screens can add to the aesthetic of your outdoor space, creating a barrier from the busy outside world. Landscaping can also be tailored to take advantage of lake views, while keeping neighbour's views out. A little privacy can go a long way in helping you make the most of your custom built home, providing enjoyment in all seasons.
Summertime & Custom Design
At Stark Homes, our clients are an integral part of everything we do. We consider client feedback and input throughout the entire building process, implementing home features that best fit their lifestyle and location. Living in the Okanagan, we have access to some of the most beautiful views in the world. Our mission at Stark Homes is to integrate this beauty into our custom homes, with honesty, integrity, and a true passion for the building process.
From large sunset-framing windows to in-ground pools and cooling systems, our custom builds can help you make the most of your summers in the Okanagan. Reach out today to get started.