With travel limitations and a world staying home, 2020 was a year for practical, livable spaces. Multipurpose rooms became a new necessity, turning guest bedrooms into private offices and gyms. Usability is in, while impractical design trends have gone out the window.
Though 2021 will continue to deliver functional design, this year we're focusing on added comfort and luxury. At Stark Homes, we build homes that are beautiful, functional and timeless. We work with our clients to customize each stage of development, from the groundwork to finishes and interior design.
We believe in building homes that incorporate our beautiful Okanagan surroundings. We go the extra mile to add in elements that make your home feel warm and inviting, while keeping up with current design and building trends. If you're looking for inspiration, here are our top five custom home trends for 2021.
1. Multifunctional Spaces
Whether you're working with a small space or a large open area, multifunctional design is all about maximum versatility. For home builders, this means creating purposeful and productive spaces.
Inspiring Home Offices
A recent survey showed that 56% of Canadians enjoy working remotely and would prefer a hybrid model of home and office. Employers are working to facilitate this new normal, and many see employees working from home in their long-term plans. As temporary setups become more permanent, people are starting to invest more into their work-from-home spaces.

Home offices are predicted to be the second most popular room in 2021 for design, following bedrooms at number one. The most popular style continues to be modern and minimal, with built in organization to keep areas neat and tidy.
Good lighting is one of the most important components of a home office, and having plenty of windows is a top priority. Natural lighting is great for enhancing mood and improving cognitive function, as is the ability to get away from the everyday activities of a household.
Motivating Home Gyms
Above spaces to work from home, 10% of homeowners are looking for their office space to double as a home gym. COVID-19 has transformed the fitness industry, substituting studio memberships for virtual fitness platforms. Retailers have been unable to keep up with the demand for fitness gear, and sales of exercise bikes and treadmills have never been higher.
Living in the Okanagan, we're fortunate to be able to enjoy the outdoors most of the winter. However, many homeowners still want to supplement their outdoor fitness with a home gym that they can access on the daily. Whether it's incorporating gym equipment into an office in a way that saves space, or building a dedicated fitness room with resistant flooring and cooling, customizable home gyms are in!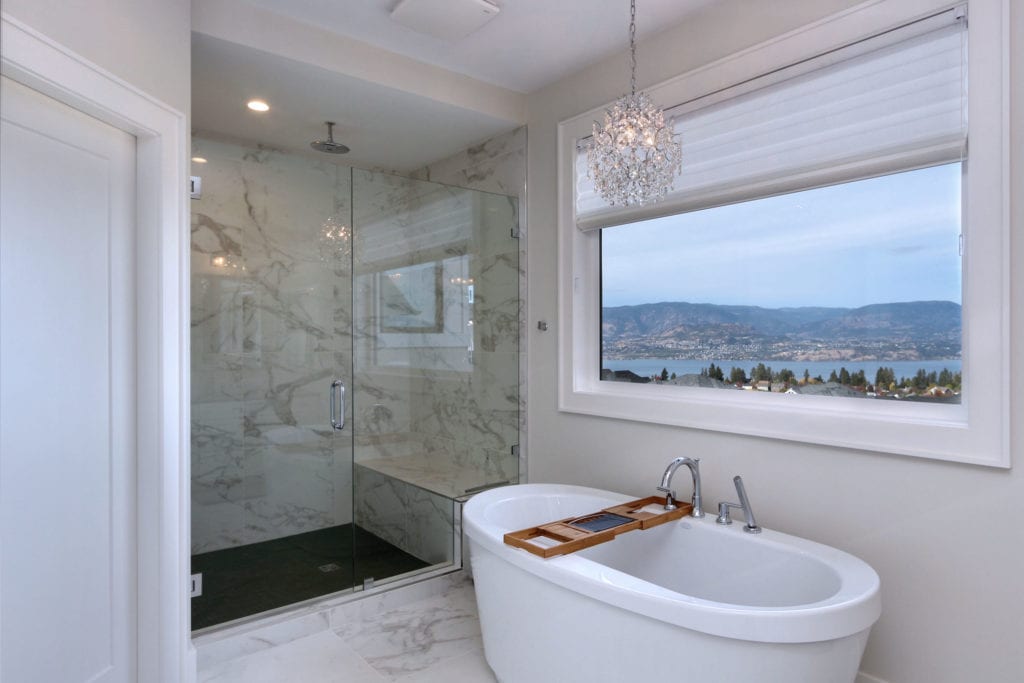 2. Home Escapes & Comfort
Transitioning from work to leisure, comfort and entertainment have become top priorities. With the limited ability to 'get away', homeowners are curating spaces that give the feeling of being transported. Whether that's a living room that feels like the cinema, or a master bathroom that offers a serene, spa-like experience. Relaxing and recharging is the goal, in a space to disconnect from work and unwind from the day.
The demand for comfort and luxury transition into the kitchen, with a newfound appreciation for cooking and baking. Following a rise in the popularity of bread-baking and make-at-home meal delivery services, spacious kitchens with ample storage are trending. Instead of going out to eat, bringing a restaurant atmosphere home is driving owners to invest in their at-home dining experience.
3. Natural & Luxe Minimalism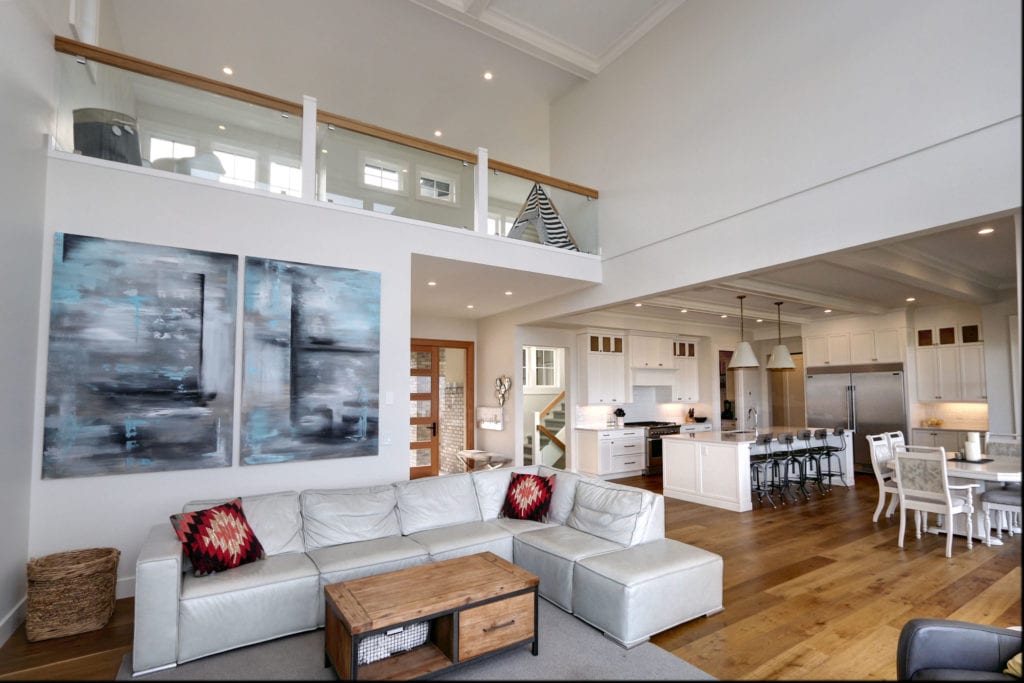 Another custom home trend that has come from spending more time at home is the desire to bring the outdoors in. Houseplants and plant installations have once again gained popularity, and are being complemented by natural textures like concrete and stone.

Trends for countertops change frequently, but quartz countertops remain one of the most requested kitchen surface materials year after year. Countertops with character veining that mimics the look of natural stone will remain popular in 2021.
Light woods are being embraced this year, with attention turning towards Scandanavian and Japanese interior designs. Minimalism will continue to lead design, but with added elements of luxury and comfort. This is termed 'luxe minimalism' or 'modern minimal'.
With a focus on natural elements also comes a demand for sustainably-sourced materials. From railings and trim, to furniture and flooring, environmentally-friendly materials are being requested more frequently. Materials to watch for in 2021 include bamboo, cork, composite and recycled woods.
4. Outdoor Entertainment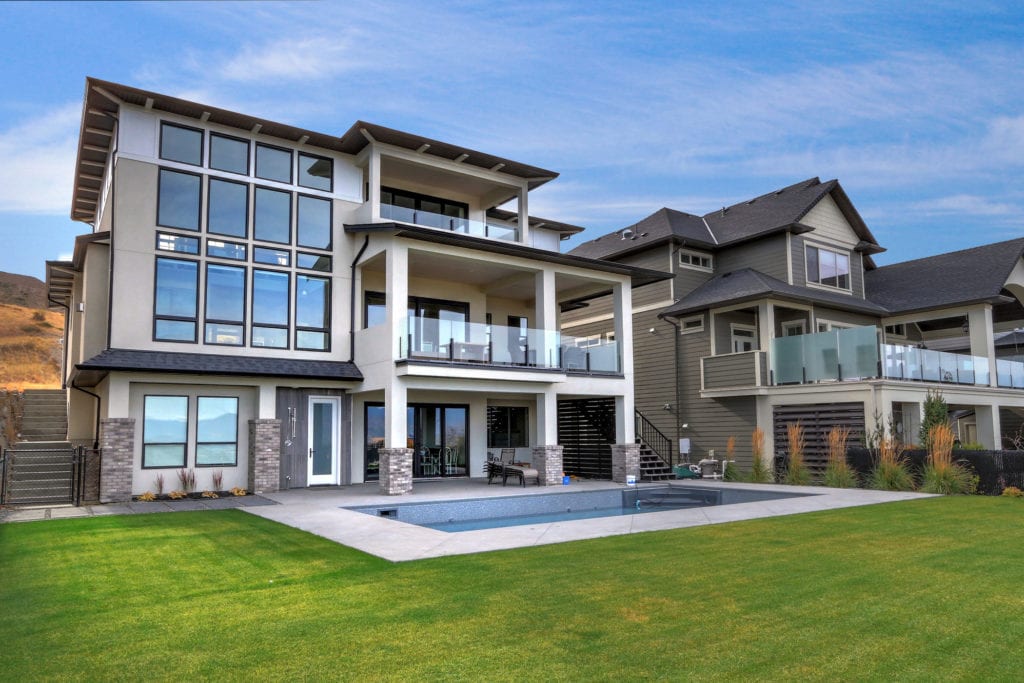 In addition to bringing the outdoors in, homeowners are looking for ways to expand and enjoy their outdoor spaces. Pergolas and enclosed patios are becoming increasingly popular for all-weather use, with heating and cooling options that facilitate using outdoor spaces for longer.
Home gardens trended in 2020, with seed sales and searches for "vegetable gardens" at an all-time high. Pools also became increasingly popular, with many families focused on turning their backyard into an oasis for all ages.
Living in Kelowna, days at the lake are a big part of our Okanagan summers. However, getting to the lake every day is difficult. With an in-ground pool, outdoor lounge, and stunning lake views, days spent in the sunshine and water become more accessible. Whether you're dining, working, entertaining or relaxing, having a beautiful outdoor space is a good incentive to get outside.
5. Customized & Individual
As a custom builder, one of the most exciting custom home trends for 2021 is the celebration of individual personalities in design. Essentially, it's trending to ignore past trends and personalize your space according to your own taste and interests. Following the desire to be comfortable in one's space, design is focusing primarily on what works best for homeowners.
Cookie-cutter designs are out, and customized, unique spaces are in! Eclectic styles have gained interest, and have even given rise to a "grandmillennial" style that incorporates nostalgic elements you may find in a grandparents home. From floral wallpaper and crocheted throws, to antiques and shades of beige, one-of-a-kind pieces and designs will be this year's most coveted.
Building Your Dream Home
At Stark Homes, our clients are an integral part of every custom home build. We let client input and feedback guide every step of the building process, from the initial floor layout to the selection of countertops. Though we keep up with the current building and design trends, our number one priority is always meeting our client's needs.

Our builds are as unique as our clients, and we strive in making the building process as smooth as possible. Whether you want to be involved in every aspect of the build, or prefer to share your vision and let us take the reins, we can work with you to turn your vision into reality.
To learn more about our custom home building process or to get started, reach out today! We can't wait to work with you in building your dream home.